Arriba~!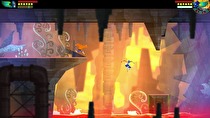 The eShop is about to get a bit spicier.
Drinkbox Studios have announced that Guacamelee 2, the sequel to the 2013 exploration/brawler, will hit the Switch in December. The original game's Super Turbo Championship Edition will release on Switch today, and a 30% loyalty discount is in the works for those who double-dip on the original.
Guacamelee: STCE will launch for $14.99 in both the US and Canada, €13.99, or £11.99.