Two rounds of racing in one week.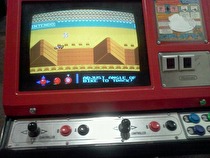 Another of Nintendo's arcade games is coming to Switch, in its second release this week alone.
A listing for Arcade Archives Excitebike is now live on the Japanese eShop for ¥823, and is confirmed for launch in the rest of the world tomorrow for $7.99/€6.99/£6.29. This follows on the heels of the launch of the NES version with Nintendo Switch Online this past Tuesday.
The arcade version of Excitebike features two more tracks than the NES version and rearranged obstacles, as well as different styles of race and a 2-player mode. It was used as the basis for the Famicom Disk System title Vs. Excitebike, which released on the Wii U's Virtual Console in 2015.