I saw a man do a Fortnite dance on a panel show once and I wanted to gouge my eyes out.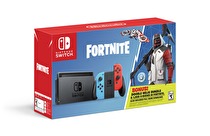 The first third-party game to get a formal Switch bundle is pretty much the expected one.
A Fortnite Switch bundle has been announced for release on October 5 - the same day as Super Mario Party. In addition to a preloaded copy of the game, the bundle will include 1000 V-Bucks and an exclusive set of gear.