Better hope you don't get matched with a McEnroe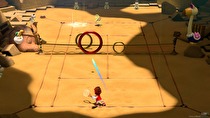 An update to Mario Tennis Aces is going to add the ability to trash-talk your opponent.
The 2.0 update, due to drop Wednesday, will support the smack talk if the Nintendo Switch Online app is active. From the patch notes: "If the application is running on your device when you enter an online match, you will automatically receive a prompt on your smartphone asking if you would like to join a voice chat with your opponent."
The function will work in all modes.