The only reason to refer to Ghandi as a bell-end is coming to Switch.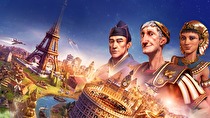 One of the longest running turn-basrd strategy series is coming back to Nintendo after a decade.
2K Games has announced that Civilization VI will release on Switch November 16. The console debut for the 2016 PC game will include four bonus scenarios and 4 player co-op or competitive play.
A version of the original Civilization launched on the Super Nintendo, and 2008 spinoff Civilization: Revolution released on DS.