No, that title isn't confusing at all.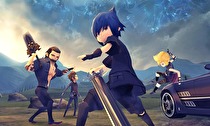 SquareEnix has brought mainline Final Fantasy back to Nintendo consoles... in a fashion.
The company released a trailer for Final Fantasy XV Pocket Edition HD on their Youtube channel earlier tonight, confirming the game for a Switch release "soon". The game has already launched on Xbox One and PlayStation 4.
The original Final Fantasy XV was announced in 2006 as Final Fantasy Versus XIII before being rebooted into Final Fantasy XV as a XB1/PS4 game in 2013 for a 2015 launch. This marks the first release of a mainline Final Fantasy game on a Nintendo console in nearly a quarter century, unless 2009's Final Fantasy IV: The After Years is considered.