Four major presentations in 29 days. What we're saying is, the Switch is popular.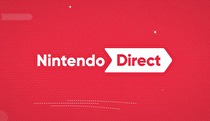 After the Smash Direct and two indie presentation, Nintendo has apparently cut the brake lines on the hype train.
A Nintendo Direct has been announced for 6 p.m. Eastern / 3 p.m. Pacific time on Thursday, September 6. The focus will be "around 35 minutes of information on upcoming Switch and Nintendo 3DS titles".
The Direct will be the fourth major presentation in 29 days for Nintendo; the Super Smash Bros. Direct on August 8, followed by the two Nindie-focused presentations on the 20th and 28th.
Tune in 9/6 at 3pm PT for a new Nintendo Direct featuring around 35 minutes of information on upcoming Nintendo #3DS and #NintendoSwitch titles!https://t.co/vZbh2Ng6u1 pic.twitter.com/WVMdZYeGFv

— Nintendo of America (@NintendoAmerica) September 5, 2018