We're a little gung-ho about these ones.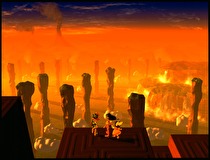 Another two classic RPGs are heading to Switch via GungHo Entertainment.
Grandia I and II, the classic RPGs of the Saturn / Dreamcast era, will launch on Switch this winter according to IGN. The games are slated for a release in Winter 2018.
Grandia I was originally released on the Saturn and ported to PlayStation outside Japan, while II started on the Dreamcast and was later ported to the PlayStation 2. Developed by GameArts, who previously developed the Lunar series and would go on to assist with Super Smash Bros. Brawl, the games are known for a timing based battle system and high quality 2D graphics.