Your eShop balance and microSDs are not ready.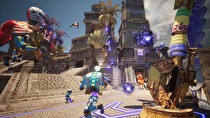 Nintendo of Europe has presented a "Indie Highlights" presentation today, outlining new titles coming to the Switch.
First out of the gate is Night Call, by Raw Fury. In the adventure game, you play a Parisian cab driver who helps to solve crime in the city. The noir style game launches in early 2019.
Monster Boy and the Cursed Kingdom, which has been teased for a year and a half, finally has a release date (and a vocal theme song). The throwback platformer launches on 6 November.
The Voxel Agents debuted The Gardens Between, a 3D puzzle game. It will launch on 20 September and can be preloaded now.
tinyBuild's Streets of Rogue, revealed last year, will finally come to Switch in Winter 2018.
Bad North, the viking-themed strategy rouge-lite from Raw Fury, is available today. Joining the party today are also Double Eleven's Prison Architect and Cosmoscope's shooter Morphie's Law. Prison Architect includes two PC expansions, with a new DLC which features playing as a prisoner coming later this summer.
Broforce will actually end the Summer of Devolver on 6 September, with The Messenger launching next week (30 August).
11-Bit Studios showed off three titles: Moonlighter, This War of Mine, as well as a new title called Children of Morta. Moonlighter will launch in fall, This War of Mine in November and Children of Morta in early 2019.
Everspace: Stellar Edition is a space shooter that takes place in a first person perspective, with ship customization. Launching in December, the Switch edition will include the PC expansion.
Baba Is You from Hempuli is a puzzle game that works by changing the last word of a phrase in the format "x is y". It launches in December.
Megacrit Games's Slay the Spire, to be published by Humble Bundle, is a card-based 2D RPG. Touch screen support is available in handheld mode, as well as Joy-Con support. It is slated to launch in early 2019.
The previously announced Windjammers was shown for launch on 23 October, alongside Windjammers 2 in 2019. The sequel was shown with a cutscene in the Japanese animated tradition.