If you pick one up, please contact Justin Berube if you might want to ditch the box.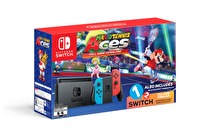 Walmart stores in North America will be adding a new offering to the Switch lineup in a couple of weeks.
The bundle will retail for US$359.99, and will include download codes for both Mario Tennis Aces and 1-2-Switch. Both Joycon choices - monochrone or red/blue - will have the offer included.