As if we don't have enough grinding to do this fall.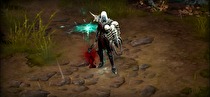 After a leak yesterday, Blizzard has officially thrown back the curtain on Diablo III: Eternal Edition.
The isometric loot RPG will release this fall, as revealed in yesterday's deleted Forbes post. The promised Legend of Zelda themed content will also be present.
With the release, it marks the first time a Blizzard game has appeared on a Nintendo platform since the Nintendo 64's port of the original Starcraft in 2000.
Update: Eurogamer has revealed that the game will allow for immediate access to the quick-fire Adventure mode added in Reaper of Souls, and will have offline play for all modes except for the ranked Seasons mode. Cross-platform play is not available at launch.