The great crossover of Fight, Heal, Wade, and Daniel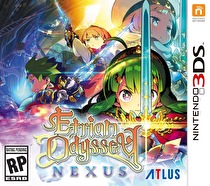 Atlus is keeping up their 3DS support into next year.
Etrian Odyssey Nexus has been announced for the West, with a North American release date of February 5. The original Japanese version came out a few weeks ago
Intended as a swan song for the dungeon crawl/mapping series designed originally for the DS, Etrian Nexus contains all of the classes of the other games along with dungeons representative of each of the games.