The arcade hit can now be played multiplayer anywhere you want.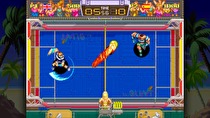 Slamming flying discs are about to return to Nintendo consoles.
DotEmu have announced that they will be publishing Windjammers on Switch later this year. Originally released for Neo Geo in 1994, it was originally sold on the Wii Virtual Console in Japan but was delisted in 2010, and re-released on PlayStation Vita and PS4 last year.
Windjammers is a two-player game similar to tennis, in which the goal is to fling flying discs from one side of the screen to the other with points awarded depending on where the disc lands. Different arenas have different scoring zones.