With a familiar face to Nintendo fans in charge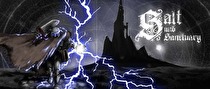 Salt and Sanctuary fans who prefer to go physical will be quickly sated.
The physical edition of the 2D RPG will release on October 30 in the "Drowned Time Edition". In addition to the game on a card, a manual, a poster map, and a download code for a copy of the soundtrack via Bandcamp.
The physical release is being published by Leadman Games, a new independent game distributor headed by former Nintendo 3rd party relations head Dan Adelman.