It got upstaged a bit, but it doesn't cost anything to try now.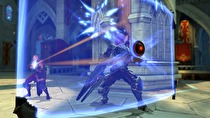 Paladins debuted at E3, and the free option is available now.
The game's entry on the eShop replaced the previously US$29.99 or equivalent Founder's Pack with the free edition today, as promised at launch. The Founder's Pack has been removed from sale completely.
Although the game is free to download, there are still ingame purchases of Crystals.