We've got the motorcycle, but nobody has the children's cards.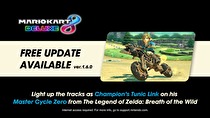 After Labo support last month, the Mario Kart 8 Deluxe update train continues to roll on.
The 1.6 update has added an entire set of Breath of the Wild crossover content: Link in his Champion's Tunic, the Master Cycle Zero, Ancient Tires, and the Paraglider. The update is available for download now.
Nintendo confirmed in a recent statement that there would be more Mario Kart 8 Deluxe updates.