Nintendo wants to see 30 indie games a week release on Switch. Surprisingly, they're not there yet.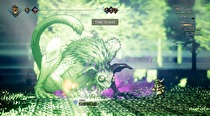 Another day, another three hundred hours of gameplay onto my backlog that's growing larger than Dara O'Brian's head. Nintendo has two retail Switch games this week in Octopath Traveler and Captain Toad, who also sneaks over to the 3DS. There's also Shining Resonance Refrain, once referred to as the "bankrupt man's Tales" with a side of fetish artist, and also Alex Culafi's sleeper hit of the year in Pato Box.
Fun thing about this week: There's 26 games in North America, and about a third of them are Thursday releases. Take 20XX and Bomber Crew, which have been out for a couple of days ago. Thankfully, Bomb Chicken (bow wow) appears to be out today, even if some people already bought it and beat it. The Archives get The Super Spy worldwide, and Express Rider (the bankrupt man's Sunset Riders) in North America.
Europe has a bunch of catchup this week including some Incredible Lego action, while Japan gets SteamWorld Heist, a free-to-play rhythm game, and a horror VN.
North America
Switch Retail
Octopath Traveler (US$59.99/C$79.99: Friday)
Shining Resonance: Refrain ($49.99/$64.99: Tuesday)
Hotel Transylvania 3: Monsters Overboard ($39.99/$50.39: Tuesday)
Captain Toad: Treasure Tracker ($39.99/$49.99: Friday)
Hunting Simulator ($39.99/$49.99: Tuesday)
3DS Retail
Captain Toad: Treasure Tracker ($39.99/$49.99: Friday)
Switch eShop
20XX ($17.99/$22.99: Tuesday)
Holy Potatoes! A Weapon Shop?! ($14.99/$18.99)
Pato Box ($14.99/$18.89: Monday)
Epic Loon ($14.99/$18.89: Friday)
Bomb Chicken ($14.99/$18.89)
Bomber Crew ($11.99/$15.99: Tuesday)
Ghost 1.0 ($9.99/$12.99)
Another World ($9.99/$12.59: Monday)
The Lion's Song ($9.99/$12.59: Tuesday)
Rento Fortune Monolit ($9.99/$12.59: Sunday)
Super Volley Blast ($9.99/$12.59)
Star Story: The Horizon Escape ($9.99/$11.99)
Fill-a-Pix: Phil's Epic Adventure ($7.99/$9.99)
Radio Hammer Station ($6.99/$9.3)
Neverout ($5.99/$7.49: Tuesday)
Muddledash ($5.99/$7.49: Tuesday)
Super Destronaut DX ($4.99/$5.99: Friday)
Darts Up ($2.99/$3.87: Friday)
Galak-Z: Variant S (free to play)
Switch Archives
The Super Spy ($7.99/$9.87)
Johnny Turbo's Arcade: Express Rider ($6.99/$10.40)
Demos and Trials
Fill-a-Pix: Phil's Epic Adventure
Ultra Space Battle Brawl
Sales and Price Drops
Highlights: In honor of the World Cup Final, FIFA 18 is US$19.79 (from $59.99) until July 17. Spreadsheet
Europe
Switch Retail
Octopath Traveler (€59.99/£49.99: Friday)
Lego The Incredibles (€59.99/£49.99: Friday)
Shining Resonance: Refrain (€49.99/£44.99: Tuesday)
Hunting Simulator (€39.99/£35.99: Tuesday)
Hotel Transylvania 3: Monsters Overboard (€39.99/£34.99: Friday)
Captain Toad: Treasure Tracker (€39.99/£34.99: Friday)
All-Star Fruit Racing (€39.99/£34.99: Friday)
3DS Retail
Captain Toad: Treasure Tracker (€39.99/£34.99: Friday)
Switch eShop
Burnwell (€24.99/£22.49)
No Heroes Here (€14.99/£13.99: Friday)
Pato Box (€14.99/£13.49: Monday)
Epic Loon (€14.99/£13.49: Friday)
Holy Potatoes! A Weapon Shop?! (€14.99/£12.99)
20XX (€14.49/£12.99)
Bomber Crew (€14.99/£11.99: Tuesday, Ultimate Edition €24.99/£19.99)
Bomb Chicken (€14.99/£11.99)
The Lion's Song (€9.99/£9.99: Tuesday)
Another World (€9.99/£8.99: Monday)
Super Volley Blast (€9.99/£8.99: Wednesday)
Ghost 1.0 (€9.99/£8.99)
Red Hot Ricochet (€8.59/£7.69: Wednesday)
Fill-a-Pix: Phil's Epic Adventure (€7.99/£7.19)
Neverout (€7.49/£6.99: Tuesday)
Radio Hammer Station (€6.99/£6.99)
Super Destronaut DX (€4.99/£4.99: Friday)
Muddledash (€4.99/£4.79: Tuesday)
Darts Up (€2.99/£2.69: Friday)
Galak-Z: Variant S (free to play)
Switch Archives
The Super Spy (€6.99/£6.29)
Japan
Octopath Traveler (¥7344)
Shining Resonance: Refrain (¥6469)
Captain Toad: Treasure Tracker (¥3980)
Pode (¥2699)
SteamWorld Heist (¥2000)
20XX (¥1980)
The Trail: Frontier Challenge (¥1600)
Another World (¥1080)
Okuri Inu (¥990)
The Super Spy (¥823)
Fill-a-Pix: Phil's Epic Adventure (¥800)
Radio Hammer Station (¥800)
Super Destronaut DX (¥500)
Dawn of the Breakers (free to play)
Galak-Z: Variant S (free to play)