Time to get your mech on.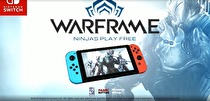 The Switch is about to pull in another well-known shooter.
Digital Extreme's free to play third person shooter Warframe has been announced for a Switch release. No release date has been given for the game, which has been in active service on PC and console for five years.
The port of the game to Switch is being handled by Panic Button, who ported Doom (2016) and Wolfenstein II: The New Colossus to Switch and were teasing a new project to be unveiled in July.