One of the games is Indonesian.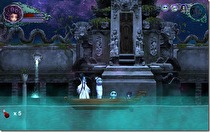 Anime Expo continues to bring Switch releases as Aksys have announced three Switch titles and clarified a release window on a fourth.
Death Mark is the localized name for Japanese horror visual novel Shiin, which released on the eShop last week. Set in a mysterious city called "H", the game sees you investigate a mysterious mark and the deaths of the people who bear it. No release window was given.
Also with no release window is scrolling shooter Stardust Galaxy Warriors: Stellar Climax. Previously released on Steam and other consoles, Stardust Galaxy Warriors is a four player local co-op shooter with multitudes of weapon combinations and options to customize gameplay.
Ghost Parade, an adventure title developed by the Indonesian developer Lentera, will come to Switch next year. A young girl named Suri is lost in a forest, and the ghosts who reside there seek her help to turn back the people destroying the forest. The ghosts have unique abilities that can also be used to form combo attacks.
Lastly, Little Dragon's Cafe was tabbed for an August release.