The teachers knew he'd lost his head when he filled a Student Council seat with Mr. Ed.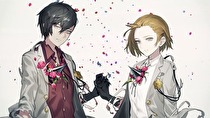 NIS America has outlined their lineup for Switch into early 2019 ahead of this weekend's Anime Expo in Los Angeles.
In addition to locking down September 18 for Labyrinth of Refrain: Coven of Dusk and November 13 for the SNK 40th Anniversary Collection, the company announced three additional RPGs are coming west: one internal project, one outsourced project, and a follow-up to a game they published last year on 3DS.
The Caligula Effect: Overdose is a retooled version of a 2017 PlayStation Vita RPG that recently released in Japan on the PlayStation 4. Set in a virtual high school where suffering people live out their high school years forever, the game was originally published by Alliance Alive/Legend of Legacy developer FuRyu in Japan and was written by the scenario writer for the pre-PlayStation 2 Persona games. The Caligula Effect is slated for "early 2019".
Also hitting in early 2019, The Princess Guide is the localized version of "Your Four Knight Princesses Training Story" that released on the Japanese eShop in March. A hybrid of strategy and action RPG awaits as the guide of four princesses out to save their kingdoms from an invading force.
RPG Maker MV is the follow-up to RPG Maker FES, which hit on 3DS last year and allowed players to create simple RPGs and share them with others. No details are available beyond a 2019 release date.