I too like to name my dogs after the battle that ends the world.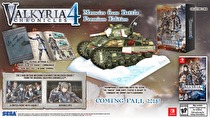 Sega has confirmed the release date and plans for Valkyria Chronicles 4.
The strategy sequel will release in stores and on the eShop on September 25. Launch editions will come with a controller skin featuring art of team dog Ragnarok. The special edition (US$99.99/C$129.99) will include a 100-page artbook, a replica statue of the tank Hafen, and a download code for missions starring characters from the original game.
The limited edition is available in North America from GameStop, Amazon, and Canadian retailer VideoGamesPlus; due to security issues, PayPal is recommended when using the last option.