Shoot me your Trainer Code.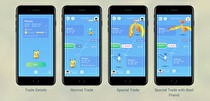 Pokemon Go's new Friends feature, which enables the trading of Pokemon and items, will start rolling out this week, Niantic announced today.
Trainers over level 10 can trade with friends within 100 meters. Trades require stardust and may produce extra candy based on the distance between where the Pokemon were caught. Trading and battling in gyms or raids together will contribute to a Friendship Level that grants bonuses.
Adding friends utilizes a "Trainer Code" reminiscent of Nintendo's friend codes. Friends can also trade items, including new gift boxes that can't be opened by the trainer that originally received it from a Pokestop. Gifts can include eggs containing Alolan forms of Kanto Pokemon.