The Switch is keeping the spirit of the horizontal shooter alive.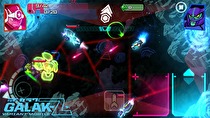 GungHo Online Entertainment has announced the contents of their E3 booth, and the Switch will be well represented.
The company announced a follow-up to the 17-Bit developed shooter Galak-Z today called Galak-Z: Variant S. A follow-up to the 2015 original, it will be a horizontal space shooter based on Japanese animation.
In the notification, GungHo also confirmed an unannounced Switch title would be revealed in "upcoming announcements leading in to E3".