Nothing chilly here... yet.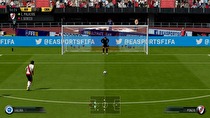 After a solid first effort, FIFA and the Switch have re-upped for another season.
Electronic Arts confirmed the news to FIFA-focused site Dream Team FC, through a statement from producer Andrei Lazarescu. No release date has been given, though FIFA titles traditionally release in September.
The Switch version will use the same modified Ignite engine that powered FIFA 18, with improvements that were also rolled into the World Cup update that launched this week. Lazarescu has not ruled out moving the Switch to the Frostbite engine for a future iteration.