I guess we'll add the screens and art to the Rogue's Gallery.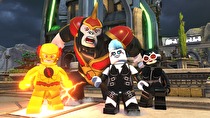 The oft-rumored title featuring playable DC villains is finally a reality.
WB announced that their second LEGO title for 2018 would be LEGO DC Super Villains, which will release on October 16. The full roster has not yet been revealed, but DC standbys such as Harley Quinn, The Joker, and Lex Luthor have been confirmed.
A character creator will be used in the story mode to create your own bad guy.