Not the first time we've seen this type of game on a Nintendo system.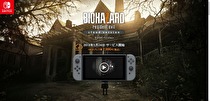 Resident Evil 7 is coming to the Switch, but not in the way some expected.
Capcom's main office in Japan have released a video showing "Biohazard Resident Evil: Cloud" coming to Switch on Thursday (May 24). The horror title originally released for PlayStation 4, Xbox One, and PC in January of 2017, and will require an internet connection to play on Switch. Pricing for the game has been announced as 2000 yen for a six month rental, and a free trial of the first 15 minutes will be available to test the connection.
Similar technology has been used for Dragon Quest X on 3DS and a version of Phantasy Star Online 2 for Switch, though this is the first time it has been used for a single player game on a Nintendo system.
Story updated with additional clarification on the price.