With availability for far longer.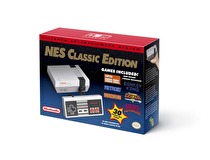 Nintendo promised a restock of the NES Classic in 2018, and they are delivering.
The first of the Classic Mini series of systems will return to stores on June 29, after being originally shelved in April of last year. Both it and the SNES Classic are expected to be in regular supply through the end of the year at minimum.
All of the 30 original games from the first printing will return, unlike Japan who have substituted most of the games on the Famicom Classic reissue for games to celebrate the 50th anniversary of Shonen Jump magazine.
#NESClassic Edition will return to stores on June 29! This system and the #SNESClassic Edition system are expected to be available through the end of the year. https://t.co/LclbG5m4ta pic.twitter.com/1PcXBI5qJC

— Nintendo of America (@NintendoAmerica) May 14, 2018