Prepare to whip it good in two weeks.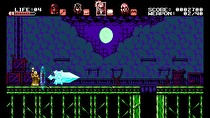 The BitSummit festival in Japan has seen a couple of new announcements from Inti Creates.
Releasing first - on May 24 - is Bloodstained: Curse of the Moon, developed by Inti in association with Bloodstained developer Koji Igarashi. Originally promised as a stretch goal of the Bloodstained: Ritual of the Night crowdfunding campaign, Curse of the Moon features multiple playable characters and endings depending on the path taken through the game. In a fashion similar to Blaster Master Zero and Mighty Gunvolt Burst, Curse of the Moon will launch on both Switch and 3DS for $/€9.99, with backers of Ritual of the Night at US$28+ receiving free codes.
Inti Creates also revealed the newest game in the Gunvolt series. Gunvolt Chronicles: Luminous Avenger iX will star Copen, who debuted in the second Gunvolt game, but no further details were made available nor a release window provided.