Nicalis is going bonkers with crossovers.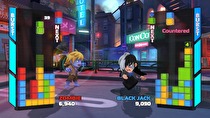 Nicalis is leaning heavy on crossovers this year, as Blade Strangers is joined by a new puzzle/fighting hybrid.
Crystal Crisis has been tabbed for a fall release on Switch, both physically and on the eShop for US$39.99. The game is a competitive puzzle game which leans heavily on fighting game elements - another example of this type of game is Capcom's Puzzle Fighter series. The cast of characters includes new characters for upcoming Nicalis titles as well as characters from Cave Story+, Isaac from The Binding of Isaac, and Solange from Code of Princess and Blade Strangers. Additionally, 1960s Japanese cartoon icon Astro Boy and TurboDuo / Arcade Archives mascot Johnny Turbo will be playable in the game.
The announcement of Crystal Crisis follows a week of new character announcements for Blade Strangers: Shovel Knight, Quote (Cave Story), Gunvolt (Azure Striker Gunvolt), and Isaac will all be playable in the upcoming fighting game.