If you can dodge a funky wrench, you MIGHT be able to dodge these balls.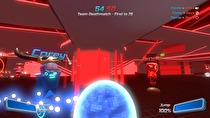 May's release schedule for Switch just picked up some more fever.
Zen Studios has announced an agreement to bring PC hit Robot Roller-Derby Disco Dodgeball to consoles, including Switch, on May 22 under the name Disco Dodgeball Remix. The price will be revealed closer to release.
Disco Dodgeball Remix is a first-person dodgeball game with multiple variations on the classic gym game, in both single and multiplayer. It was originally developed by a single developer named Erik Asmussen under the studio name 82 Apps.