And vertical play is supported.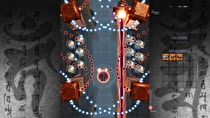 The Switch has a lot of scrolling shooters, and it's landing a giant of the genre this month.
Developers Treasure are teaming with Nicalis to bring Ikaruga to the eShop on May 29 for US$14.99. The game previously hit Nintendo platforms with a 2003 GameCube release.
The core gameplay of Ikaruga involves switching the polarity of the titular ship to absorb bullets.