Among the things the developer is younger than: Super Mario 64.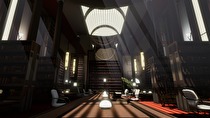 A first person puzzle title that has already been lauded for quality is coming to Switch this year.
Ripstone have announced that they are working with developer Dan Smith to bring the full version of The Spectrum Retreat to Switch this year. The first person narrative/puzzle game is set in an unusual hotel.
The prototype for the game won the BAFTA (British Academy of Film and Television Arts) Young Designers award in 2016, when developer Smith was aged 18.