The newest title from 13AM Games is finally here.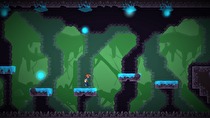 Runbow might be hitting Switch this month, but the newest adventure from 13AM Games will follow in the summer.
After a Twitter tease yesterday, the Toronto-based developer has revealed their newest title Double Cross, which is slated for a summer release on Switch. The star of Double Cross is Zhara, an officer of an inter-dimensional police force known as R.I.F.T (Regulators of Interdimensional Frontiers and Technology). Double Cross will combine high-octane platforming with investigation sequences.
Players will be able to control the order of their missions, as well as use a resource called Upgradium to kit out Zhara in whatever order they desire.