We really need to apply Wheel of Fortune rules to some of these releases.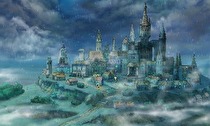 As befitting the last days of the fiscal quarter - and in most cases, the fiscal year - there's a healthy lineup of new titles to get you hopping into the Easter weekend. The big ones are a couple of RPGs - The Alliance Alive for the 3DS, since *someone* wants to still localize things, and the Atelier series returning to Nintendo platforms.
In addition to that, Toki Tori and Outlast 2 cross to the Switch from other platforms, and they couldn't be farther enough in tone. It's a huge week for retro games, as Nintendo, Data East (disregard, Bad Dudes was delayed again), Psikyo, and SNK all chip into the Archives for North America.
Europe gets a slightly early visit from a brawling member of royalty - Neal's review for Penny-Punching Princess is now up - and Japan gets what appears to be a game starring a Japanese idol. And by idol, we mean adult star.
North America
Switch Retail
Atelier Lydie and Suelle: The Alchemists and the Mysterious Paintings (US$59.99/C$77.61: Tuesday)
3DS Retail
The Alliance Alive ($39.99/$54.99: Tuesday)
Switch eShop
Farm Expert 2018 ($29.99/$39.99: Friday)
Outlast 2 ($29.99/$34.99: Tuesday)
The Charming Empire ($24.99/$33.99)
Lode Runner Legacy ($11.99/$14.99)
D/Generation HD ($9.99/$12.99: Tuesday)
Warp Shift ($9.99/$12.89: Tuesday)
Gotcha Racing 2nd ($9.99/$12.69)
Clusterpuck 99 ($9.99/$12.49)
Shadow Bug ($8.99/$11.60: Friday)
Word Search by POWGI ($7.99/$9.99)
Devious Dungeons ($6.79/$7.79: Friday)
The Adventures of Bertram Fiddle Episode 1: A Dreadly Business ($4.99/$6.99)
Zombillie ($4.99/$5.99)
Alteric ($4.49/$5.79: Friday)
Toki Tori ($4.49/$4.64)
Wii U eShop
Spellcaster's Assistant ($3.99)
3DS eShop
Waku Waku Sweets: Happy Sweets Making ($24.99/$32.24)
Dodge Club Pocket ($4.99/$6.45)
Switch Archives
Johnny Turbo's Arcade: Bad Dudes ($7.99/$10.99)
Sengoku 3 ($7.99/$9.87)
Punch-Out!!! ($7.99/$9.87: Friday)
Tengai ($7.99/$8.99)
Demos and Trials
Lode Runner Legacy
10 Second Run Returns
Sales and Price Drops
Highlights: Thimbleweed Park is 50% off until Saturday, ARMS will be 30% off from March 30 - April 6 to go along with the Testpunch. Spreadsheet
Europe
Switch Retail
Atelier Lydie and Suelle: The Alchemists and the Mysterious Paintings (€59.99/£53.99: Friday)
Penny Punching Princess (€39.99/£39.99: Friday)
Switch eShop
Outlast 2 (€29.99/£26.99: Tuesday)
The Charming Empire (€24.99/£19.99)
Farm Expert 2018 (€24.99/£22.49: Friday)
Lode Runner Legacy (€11.99/£10.79)
Warp Shift (€9.99/£8.99: Friday)
Gotcha Racing 2nd (€9.99/£8.99)
Shadow Bug (€8.99/£8.09: Friday)
Clusterpuck 99 (€8.49/£7.69)
Devious Dungeons (€7.99/£7.99: Friday)
The Adventures of Bertram Fiddle Episode 1: A Dreadly Business (€5.49/£4.99)
Toki Tori (€4.99/£4.49: Friday)
Alteric (€4.99/£4.49: Friday)
Unholy Heights (€4.89/£4.39)
Sengoku 3 (€6.99/£6.29)
Punch-Out!!! (€6.99/£6.29: Friday)
3DS eShop
The Alliance Alive (€39.99/£34.99: Friday)
Demos and Trials
Lode Runner Legacy
10 Second Run Returns
Word Search by POWGI
Japan
Aokana: Four Rhythm Across the Blue (¥6264)
Happy Birthdays (¥5390)
The Charming Empire (¥2980)
Layers of Fear: Legacy (¥2000)
The Flame in the Flood: Complete Edition (¥1500)
Lode Runner Legacy (¥1200)
Gotcha Racing 2nd (¥1200)
Clusterpuck 99 (¥1100)
Tengai (¥864)
Sengoku 3 (¥823)
Punch-Out!!! (¥823)
The Adventures of Bertran Fiddle Episode 1 (¥500)
Akira Akira (¥500)