A Slime approaches... very slowly.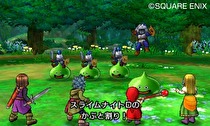 Nintendo fans will have a long wait for the next Dragon Quest title.
In a statement following the confirmation today of Dragon Quest XI's overseas release for PC via Steam and PlayStation 4, Square Enix confirmed that the Switch version is coming "much later" while the 3DS version would not be localized.
A desire to focus on Western growth of the series is cited as the reason for no localization of the 3DS version, while the Switch version is still deep in development. "We are also developing the Switch version for Europe and North America... but development is expected to take a long time from a technological standpoint as well, so we still have a long way to go until its release." The Switch version of Dragon Quest XI has not yet released in Japan.