One of which was coming to Wii U back in the day.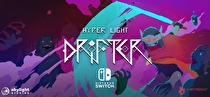 Undertale came to Switch as a result of the GameMaker engine, and multiple games are also joining the party.
At a presentation at the Game Developer's Conference in San Francisco, Nintendo confirmed that Nidhogg II, Hyper Light Drifter, and Crashlands would all be coming to the Switch. Abylight, who is handling the port of HLD to Switch, has worked with the original developer Heart Machine and engine developer Yoyo Games to confirm a summer release for the action RPG. The main character of Hyper Light Drifter has made cameo appearances in Runbow and Brawlout, and the game was slated to release previously on Wii U.
Nidhogg II is a multiplayer fighting game and Crashlands an action/survival RPG title, both of which are tabbed for a 2018 release.