Not only do you get Toad and Toadette on both consoles, you can also visit the latest Mario levels.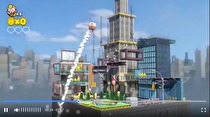 The Wii U title Captain Toad: Treasure Tracker will be released on Switch and 3DS, as announced in today's Nintendo Direct.
The new versions of the game will have Super Mario Odyssey levels added and Toad could be seen floating into New Donk City in the footage. There will be a two player mode, where the first player controls Captain Toad and the second player can assist with shooting things.
With some of the action taking place on the Wii U GamePad, the new version of game would work well on the Switch and 3DS screens.
The games will be released on July 13.