The RPG is coming to 3DS with some extras.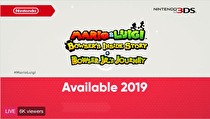 Mario & Luigi: Bowser's Inside Story + Bowser Jr.'s Journey has been announced for Nintendo 3DS in the latest Nintendo Direct. The release will include Bowser Jr.'s Journey, a behind the scenes look at the untold story of Bowser Jr.
The game was released originally on Nintendo DS as one of the games in the Mario & Luigi RPG series. Players switch between controlling Mario and Luigi together as they traverse inside Bowser, and also control Bowser directly in the overworld.
The game is set for release in 2019.