The brawler/RPG with some huge, uh, assets has another publisher.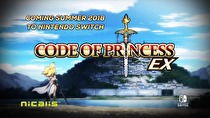 After Runner 3, Nicalis is reaching back into the past a bit for their next publishing deal.
Code of Princess, which originally released in 2012 for the 3DS and later migrated to the PC, will come to Switch this summer. Nicalis will be publishing the game in the West physically and on the eShop.
In addition to the HD graphic upgrade, the Switch version promises a rebalanced AI, higher framerate (60FPS) and local co-op.