Will the opportunity for extra rewards cause you to enhance your quality of life?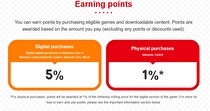 After being announced last month, the promised My Nintendo changes to gold coins have now gone live.
The new program increases the amount of gold coins earned from purchasing digital software on all systems from 1% to 5% of the actual cost, while physical Switch software increases from 10-20 points to 1% of the game's MSRP. The gold coins can be used to pay for digital purchases, at a conversion rate of 1 coin = $/€/£0.01 or 1 yen.
Existing gold coin balances will remain the same, and physical games can still only be registered once. The existing US$5/C$7 limits for earning gold coins have been removed.