This is not the strategy RPG you're looking for.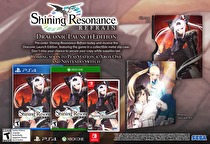 After a decade away, the Shining series is leaving Japan and coming to a Nintendo platform.
Sega has confirmed that Shining Resonance Refrain, an expanded version of a previously Japan-only action RPG, is coming to Switch this summer. The expanded re-release will include dual audio (English/Japanese) and all of the DLC of the original PlayStation 3 release, and a new story. The first print of the game will include a special slipcase.
Although Sega has published Shining games in the West since 1992, this title is not a strategy RPG in the style of the Shining Force games.