Now, about those X releases...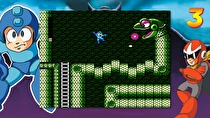 Capcom will be holding two different collection releases on Switch in May.
Following the Street Fighter 30th Anniversary Collection, Capcom will also launch the Mega Man Legacy Collection titles on Switch May 22. The eShop releases will be separate, with Legacy Collection 1 (Mega Man 1-6) costing US$14.99 and Legacy Collection 2 (7-10) holding a $19.99 price tag. The Switch version of the first collection will include the fan-created challenges previously found on the 3DS release, while both games will support Amiibo.
A physical release will also be available the same day for $39.99. The package will include the first Legacy Collection on a Switch card, a download code for the second, and a 30th anniversary cleaning cloth.