A nice surprise from Europe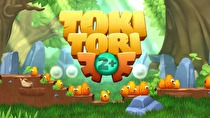 This week's Nintendo download PR has revealed a new version of a beloved Wii U indie game coming to Switch.
A listing for Toki Tori 2+ Switch edition was found in this week's European store update release, with a release date of 23 February. Although the regular price of the game will be €14.99 (or equivalent), the preorder will be available starting at 1500 CET tomorrow for €9.99.
The puzzle sequel was published by Two Tribes on Wii U in 2013, and the firm's follow-up title Rive released on Switch in November.