The big press event was loaded, dood.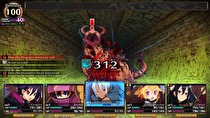 NIS America held a press event tonight in San Francisco which saw seven Switch titles get announced or receive new details.
The full list of Switch announcements:
The first Switch announcement was a release date for Penny-Punching Princess. The action RPG / critique of capitalism will hit the Switch on April 3 in North America and 29 March in Europe.
Fallen Legion: Rise to Glory was the next Switch announcement, an action RPG with two distinct storylines and multiple branching paths. It will release on May 29 in North America, and in Europe on 1 June.
The game known as Birthdays: The Beginnings is coming to Switch as Happy Birthdays this year. A life simulation title headed up by Harvest Moon / Bokujo Monogotari creator Yasuhiro Wada. The Switch version will see UI changes from the original game when it releases this summer.
Touhou will hijack the Switch again this fall with Touhou Gensou Wanderer Reloaded. The Reloaded version refers to the three DLC packs from the original PlayStation 4 and Vita release of the roguelike, plus additional scenarios. Touhou Genso Wanderer Reloaded is currently tabbed for a summer release.
The latest original RPG from Nippon Ichi Software was the final game shown, and it is headed for the Switch this fall. Labyrinth of Refrain: Coven of Dusk is an original dungeon crawling RPG which features masses of treasure to loot and puppets to command in battle. Labyrinth of Refrain was a 2016 PlayStation Vita title in Japan, which was later ported to the PlayStation 4.
In addition, new details were given for a pair of previously-announced titles:
Ys VIII: Lacrimosa of Dana received a new trailer and reconfirmed its summer 2018 release date. The Switch version will also include additional cosmetic items in the base package that were downloadable content for the other versions. NIS America will be holding social media surveys to determine the reversible cover for the physical copy of the Switch game.
SNK Heroines: Tag Team Frenzy showed off new costumes for the four announced characters. Both classic outfits and newer, more casual outfits were displayed. The celebration of SNK's 40th anniversary is still slated for summer 2018, and the next character to be announced is a grappling character who was not in King of Fighters XIV.