A big, wide, open-world of crafting and friendship.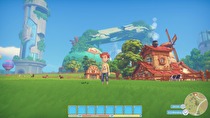 Team 17 confirmed this morning that open-world life simulator My Time at Portia will be arriving on Switch later this year. Developed by Pathea after a successful Kickstarter campaign, My Time at Portia invites players to explore, harvest, craft, and develop relationships in their town. The game also features dungeons full of enemies to fight in real-time combat. Developer Pathea cites games like Animal Crossing and Harvest Moon as major influences on the gameplay, and references Miyazaki as a source of visual inspiration.
No official release date has been given, but according to their Kickstarter page they're aiming for a fall 2018 release.
The official trailer can be seen below.