On a full house of a day, it's a fuller house of games.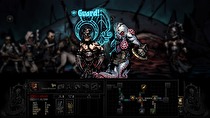 In the North American shops this week, Nintendo really wants you to think that the big game is the 3DS retail release du jour in Kirby: Battle Royale. But we all know the truth: The ability to absorb a foe in a single inhale is insignificant next to the power of Cthulhu. Hencem the big winner this week is Darkest Dungeon, launching on Switch with hopefully readable text in handheld mode.
Other items of interest this week: Gunhouse, the fever dream that comes by no less than two regular panelists on the defunct podcast Insert Credit, dropped on Monday, while World to the West brings its unique take on adventuring to the Switch today. A note that Baseball Riot is not a sports game, despite the title. I know, I'm disappointed myself. In the retro arena, Power Spike II fills the sports niche, while after a few weeks delay Double Dragon is now punching its way into the Archives.
Europe's lineup, barring Kirby, is largely identical. The oddities are in Japan with 2018's 2017 Game of the Year candidate Mario + Rabbids Kingdom Battle, and a rollup of the three Mercenaries Saga games (two of which are regulars on the sales list in North America thanks to Circle).
North America
3DS Retail
Kirby Battle Royale (US$39.99/C$49.99: Friday, preload available)
Switch eShop
Darkest Dungeon ($24.99/$30.99)
InnerSpace ($19.99/$24.51: Tuesday)
World to the West ($19.99/$23.99)
Gunhouse ($14.99/$19.35: Monday)
Vesta ($14.99/$18.06: Friday)
Nightmare Boy ($9.99/$10.99: Tuesday)
Ambition of the Slimes ($5.00/$6.89)
Baseball Riot ($4.99/$5.99: Friday)
Qbik ($4.99)
Nuclien ($3.99/$4.99: Friday)
Oh... Sir! The Insult Simulator ($2.99/$2.79)
Oh... Sir! The Hollywood Roast ($2.99/$3.99)
Energy Balance ($2.99/$3.87)
3DS eShop
Link-a-Pix Color ($7.99/$9.99)
Switch Archives
Power Spike II ($7.99/$9.87)
Double Dragon ($7.99/$9.87)
Sales and Price Drops
Highlights: 3DS retail titles including Dragon Quest VIII, RPG Maker FES and Etrian Odyssey V are 30% off until the eShop updates.
Europe
Darkest Dungeon (€21.99/£17.99)
InnerSpace (€19.99/£17.99: Tuesday)
World to the West (€19.99/£17.99)
Vesta (€14.99/£13.49: Friday)
Gunhouse (€12.99/£11.99: Monday)
Nightmare Boy (€9.99/£8.99: Tuesday)
Rally Racers (€9.99/£8.99)
Brawl (€9.99/£8.99: Friday)
Ambition of the Slimes (€5/£4.99)
Baseball Riot (€4.99/£4.49: Friday)
Qbik (€4.99/£4.49)
Oh... Sir! The Hollywood Roast (€3.49/£2.99)
Nuclien (€3.49/£2.99)
Energy Balance (€2.99/£2.69: Tuesday)
Oh... Sir! The Insult Simulator (€2.29/£1.99)
3DS eShop
Link-a-Pix Color (€7.99/£7.19)
Picross e8 (€5.00/£4.99)
Raining Coins (€3.99/£3.59)
Switch Archives
Double Dragon (€6.99/£6.29)
Power Spike II (€6.99/£6.29)
Demos and Trials
League of Evil (Switch)
Death Squared (Switch)
Japan
Mario + Rabbids: Kingdom Battle (¥6458)
Mercenaries Saga Chronicles (¥1500)
World to the West (¥1200)
Heroes of the Monkey Tavern (¥1200)
VVVVVV (¥1000)
Double Dragon (¥823)
Power Spike II (¥823)
Zero Gunner 2 (¥823)