Not the Showcase Showdown, a Scribblenauts Showdown.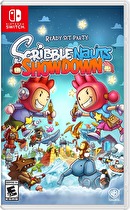 Soon Switch owners will be able to summon whatever they wish.
WB has announced the first Scribblenauts game to hit a Nintendo platform in four and a half years today, as Scribblenauts Showdown will release on Switch March 6. The previous title, Scribblenauts Unmasked, released on Wii U and 3DS in September of 2013.
Scribblenauts Showdown is a multiplayer-focused game which has a two player head to head mode and a board game-styled four player mode. Victory is achieved either by coming up with creative words to defeat other players or by using the traditional Scribblenauts dictionary to complete quick puzzle challenges.