Matt Makes Games' platformer Celeste and Zoink Games' Fe due are both coming very soon.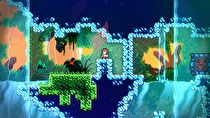 A pair of Nindies were given release dates in the today's Nintendo Direct.
First is Celeste, the platformer from TowerFall developer Matt Makes Games. Due out January 25, this challenging game features more than 300 levels and a nuanced story.
The other game is Fe from Zoink Games. The first game in the EA Originals label, Fe is a platformer with adventure game elements, as you learn different animal calls to solve puzzles without any handholding and guidance. It is due out on February 16.