Hide and seek for Mario and Luigi.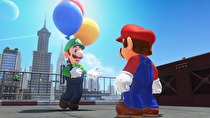 Super Mario Odyssey is receiving a new competitive mode called Luigi's Balloon World. After completing the main story, players will be able to speak to Luigi in stages to start the competitive modes. Hide It mode will give the player 30 seconds to hide a balloon within a stage. Find It is the opposite giving you 30 seconds to find the balloon hidden by other players. Doing well in these new modes will increase a player's rank on online leader boards.
New outfits and camera filters are coming to Super Mario Odyssey. Costumes include Sunshine Shades & Outfit, Musician Hat & Outfit, and Knight Helmet & Armor. Both the new competitive modes and costumes will be available as a free download this February.