What a wonderful world this is.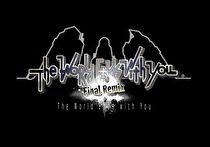 One of Square Enix's biggest cult hits will celebrate its tenth anniversary with a Switch release.
The World Ends With You, the Jupiter-developed RPG which used every single DS system function when it released in 2008, will release a "Final Remix" version on Switch. No release date was given for the former Radio Free Nintendo Retroactive title.
In addition to the DS game's content, a new story with a new playable character based on the 2012 mobile port will also be included.